At first glance, the Mexican custom of
El Día de los Muertos
— the Day of the Dead — may sound much like the U.S. custom of Halloween. After all, the celebration traditionally starts at midnight the night of Oct. 31, and the festivities are abundant in images related to death.
But the customs have different origins, and their attitudes toward death are different: In the typical Halloween festivities, death is something to be feared. But in el día de los muertos, death — or at least the memories of those who have died — is something to be celebrated.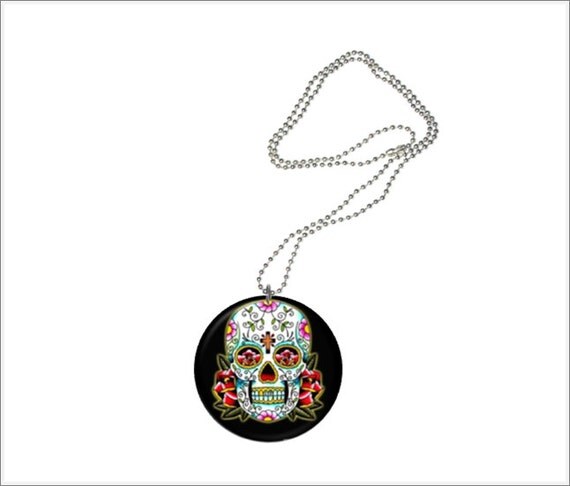 Comes on a 24 inch silver plated ball chain.
Fun, lightweight, easy to wear necklace.
I used to make Scrabble Tile Necklaces but much prefer my new Button Necklaces.
Much more display area, easier to see or read.
NOT waterproof. Take off before bathing or swimming.
Hand pressed by me on my professional quality button machine.
The collar features a quick release buckle in case your kitty gets into a jam (the buckles will pull apart). This is for your cat's safety.
The cat collar fits a cat neck size 7-11 inches and is approximately 1/2 inch wide.
If you need a larger neck size just let me know. I can accommodate.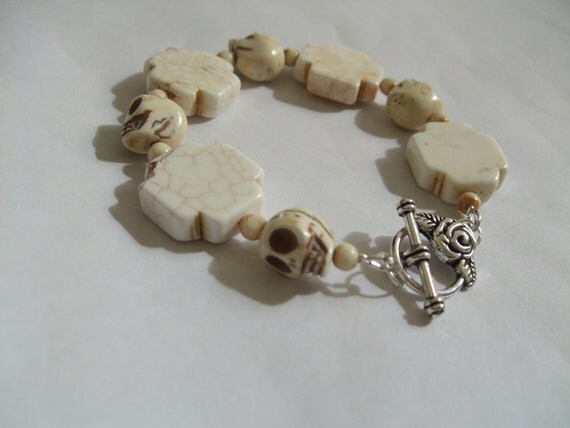 Day of the Dead inspired skull and cross bracelet. Both the southwest style crosses and skulls are made from Magnesite stone, and the spacer beads are bone. The clasp is an antiqued silver plated toggle clasp with a rose on one end. The bracelet measures about 8 1/2 inches long, and is no more than 3/4 inches w
ide.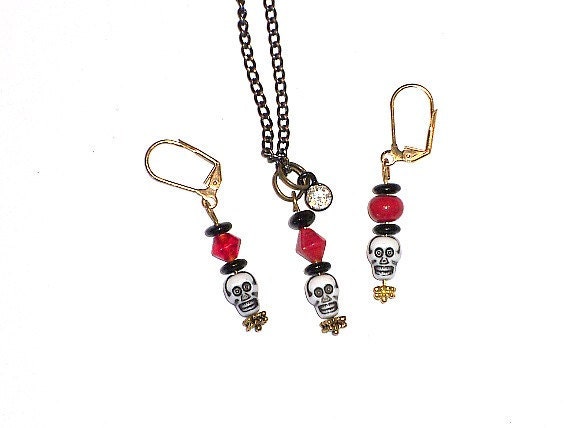 This skull charm necklace and earring set is a one of a kind unique set. Handmade with red bead accents and sparkle charm.
Comes on an 18 inch black chain - charm measures 1 1/2 inches
Earrings are lever back - measure about 2 inches long