Did you know:
Leprechauns had nothing to do with St. Patrick or the celebration of St. Patrick's Day, a Catholic holy day?
In 1959, Walt Disney released a film called Darby O'Gill & the Little People, which introduced America to a very different sort of leprechaun than the cantankerous little man of Irish folklore. This cheerful, friendly leprechaun is a purely American invention, but has quickly evolved into an easily recognizable symbol of both St. Patrick's Day and Ireland in general.
Did you know: Blue was the actual color of St. Pat's and not green?
Did you know: Irish music was outlawed by Queen Elizabeth I?
During her reign she decreed that all pipers and artists were to be hanged on the spot.
Did you know: The shamrock was a sacred plant in Ireland?
It symbolized the rebirth of spring. By the seventeenth century, the shamrock had become a symbol of emerging Irish nationalism. As the English began to seize Irish land and make laws against the use of the Irish language and the practice of Catholicism, many Irish began to wear the shamrock as a symbol of their pride in their heritage and their displeasure with English rule.
source: http://www.history.com/topics/st-patricks-day-symbols-and-traditions
~~Enjoy some Irish finds from Etsy!~~
Irish Flag Colors & Shamrock Crocheted Mug Cozy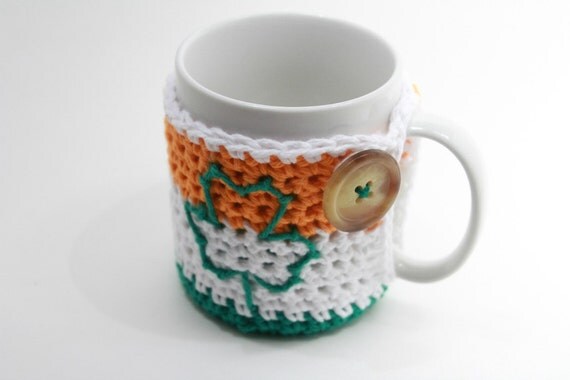 ****CLICK HERE TO VISIT SHOP
Item: Irish Flag Colors & Shamrock Crocheted Mug Cozy with Repurposed Button
Made from: 100% cotton yarn, repurposed plastic button
Fits: Average-sized mug
This adorable mug cozy was hand crocheted from green, white and orange yarn. Use this to keep your mug and hands cozy or give to a friend or special someone to show you care!
Celtic Knots Pendant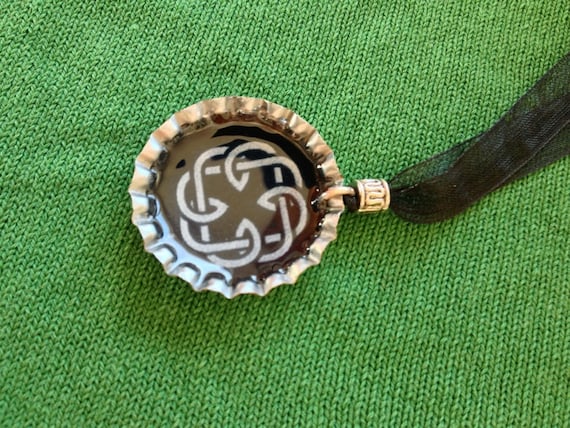 ****CLICK HERE TO VISIT SHOP
A stylish and fun little pendant - Traditional Irish / Celtic knots decoupaged inside a silver tone bottle cap, then covered with clear resin. This is hung on black organza ribbon with a silver tone barrel bead and silver plated lobster clasp.
A lovely gift for an Irish friend - or wear for St. Patrick's day.
Pendant will be sent in a pretty organza drawstring gift bag.
Wedding Guest Book Wood Personalized Irish Claddagh Design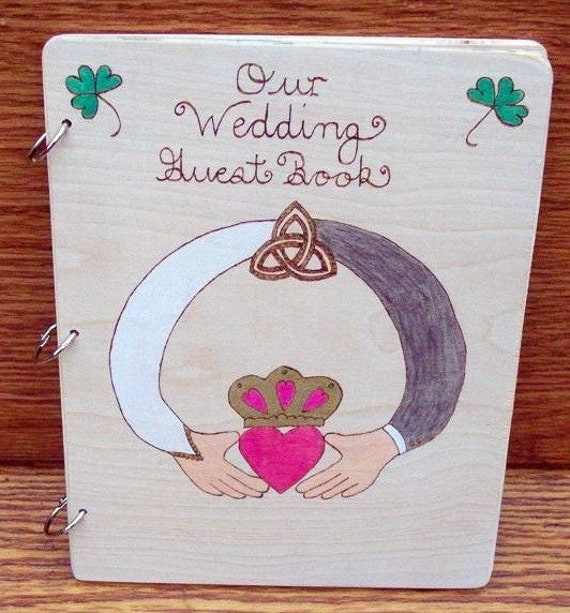 ****CLICK HERE TO VISIT SHOP
This original design book is made of fir and finished with polyurethane. Each book is done free handed, so no 2 will ever be alike. All writing and the design are wood burned and tinted. It measures approx. 11 3/4" x 9". The couples names and wedding date will be burned above the crown.
This is my own design of a claddaugh, using a bride and a grooms arms. The trinity knot is joining the 2 together at the top.
Other designs can be made to match your wedding theme and or colors.
This is NOT a bound book. It is held with binder rings. There are approximately 25 pages of ivory paper included. You can change out the rings for larger ones for a larger book.
Large Soy Candle, 36 ounces Irish Moss, Three Wick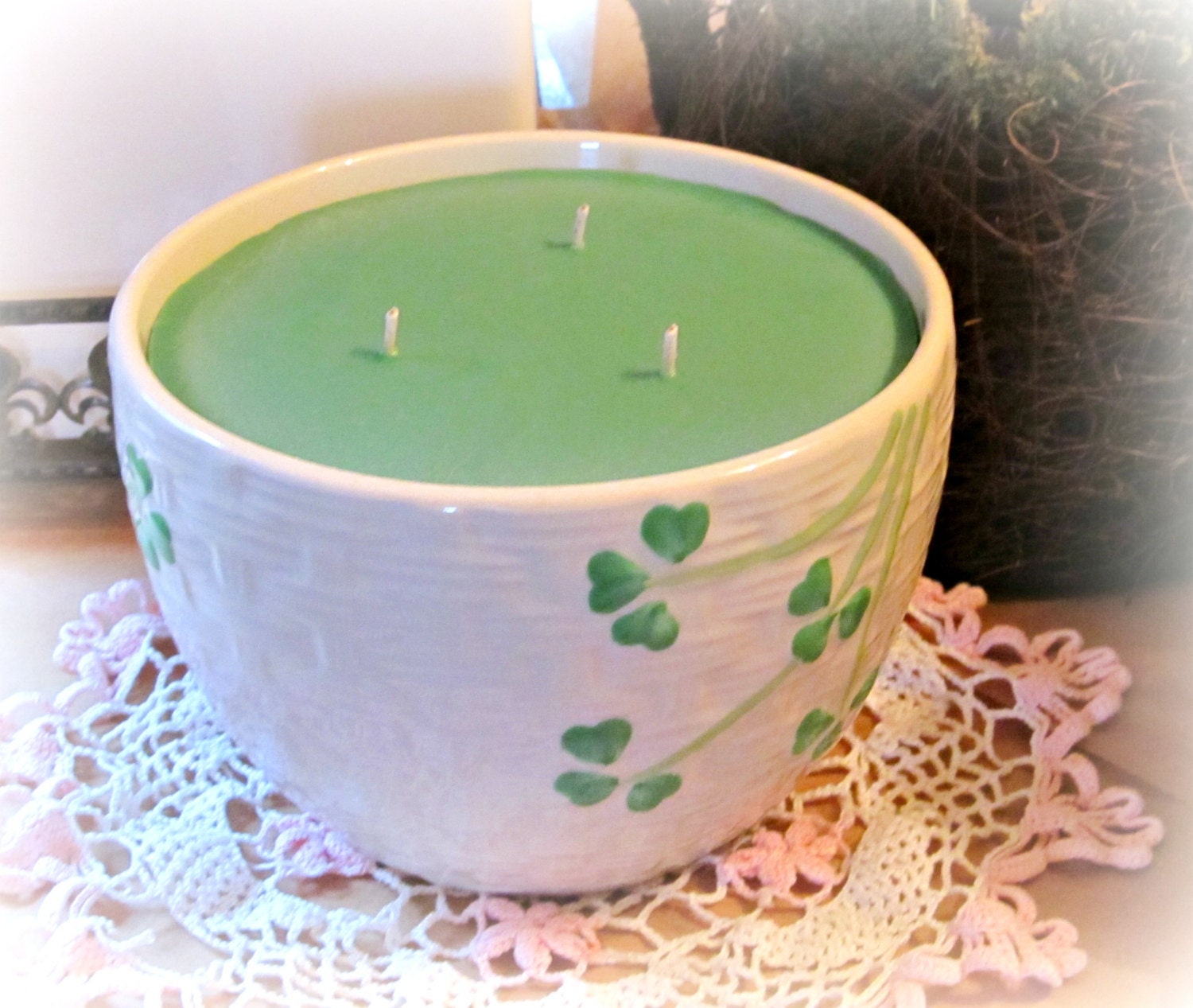 ****CLICK HERE TO VISIT SHOP
Nothing says St. Patrick's Day like an Irish Moss Bowl Candle. The Basket weave design on this white bowl is so pretty and the delicate clovers bring just that brightness of color to make it festive. You choose whether you want the 36 ounces of soy wax to be green or white.
With the three wicks you'll enjoy hours and hours of beautiful glow and burn time.
Soy wax is a natural product and burns much cleaner and longer than traditional paraffin.
I've used hemp wicks in this candle design. You'll be very pleased with their performance when you trim the wicks before lighting every time. If you burn this candle for longer than 3 hours at a time you may wish to blow them out, trim the wicks and relight for a prettier flame.
Olive Jade and Celtic Heart Ring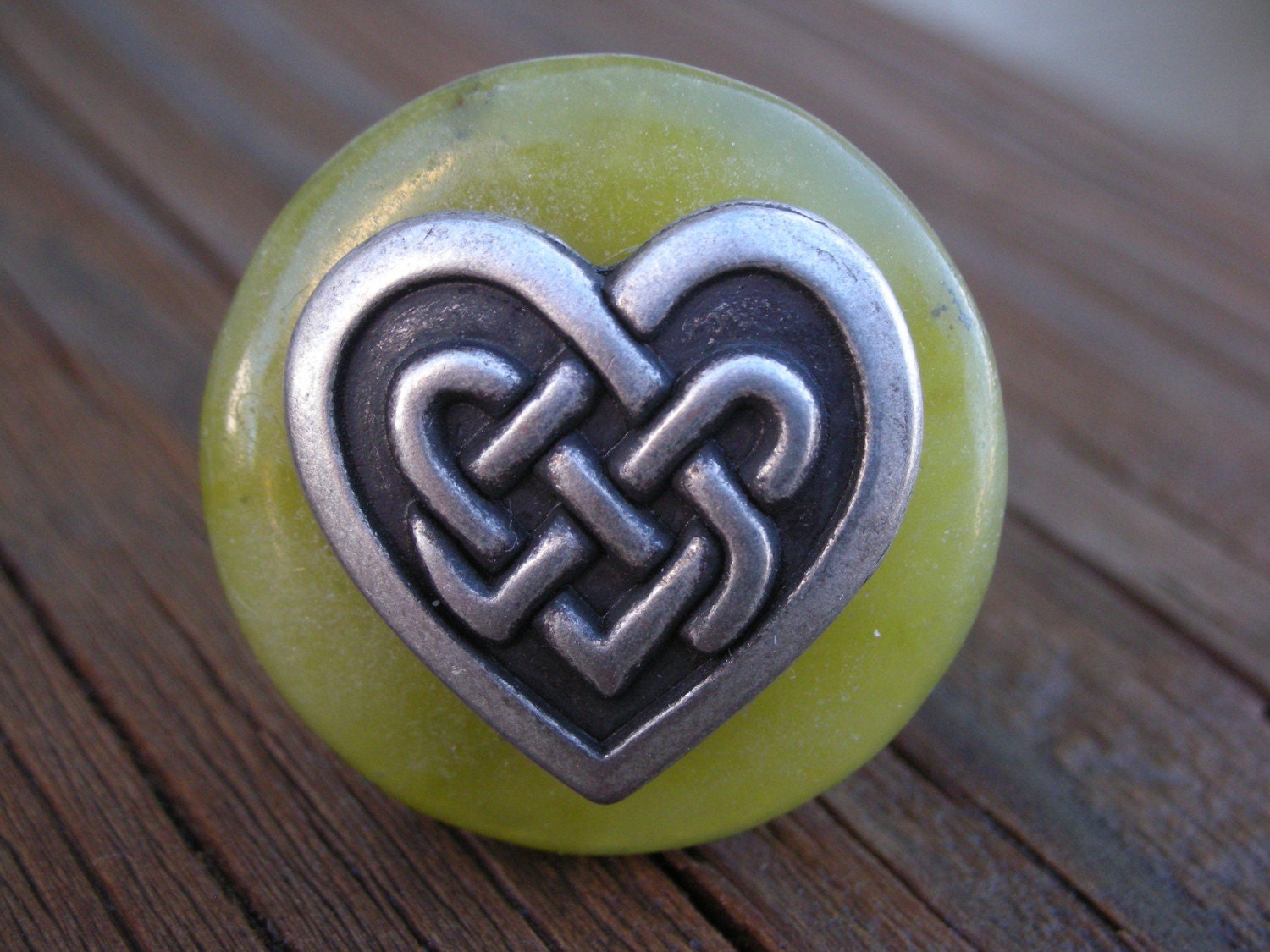 ****CLICK HERE TO VISIT SHOP
This ring is made with a 25mm olive jade stone, with an even guacamole green color throughout the stone. It's topped with a Celtic knot button that is cast in a heart shape and accented with an oxidized finish that shows off the detail. The ring has a wide band that adjusts at the top for a comfortable fit.