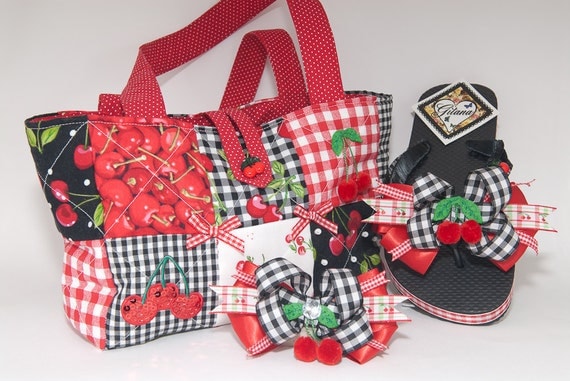 LINK TO SITE:
http://www.etsy.com/listing/82531145/cherry-quilted-purse-set
This set of cherry tote, flip flops and bow are handmade with love, cherry design and embellished with cherry applique, sequins, beads, buttons, ribbons, pom pom. Interior lining with pocket. Beautiful purse for a little princess. Black flip flips came on small, medium, and large girl sizes and a coordinate bow.
Purse measure approximately: (Top): 10"inches
(Bottom): 7 1/2"inches
(Long): without straps 8 1/2"inches, with straps 12 1/2"inches
(Depth): 3 1/2"inches
(Straps): 17"inches
Pocket size: 9"inches long by 5 1/2"inches wide.
Flip Flops measure approximately: small 6 1/2", medium 7 1/2", large 8 1/2".
Bow measure approximately: 5"inches by 2 3/4"inches.
Please read the" FAQ's" and contact me for any questions or visit my website at www.gitanaflipflops.com. For more styles!!!
Exclusive design by Sonia Vera
Thank you for your visit!!!
Copyright © 2010 - 2011 Gitana Flip Flops. All rights reserved