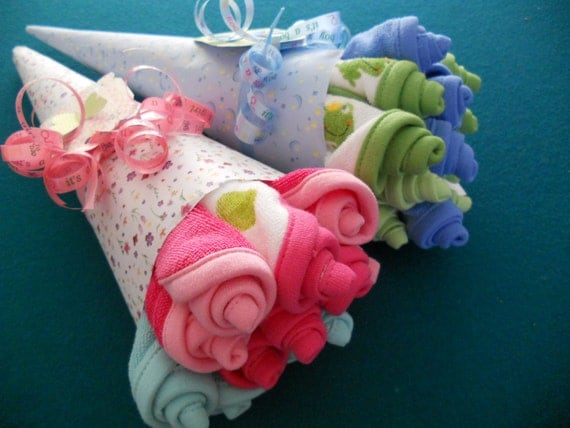 LINK TO SITE:
http://www.etsy.com/listing/74035331/10-off-washcloth-rosebud-bouquet-baby?ref=sr_gallery_21&ga_search_submit=&ga_search_query=castteam&ga_view_type=gallery&ga_ship_to=US&ga_search_type=handmade&ga_facet=handmade
Use Coupon Code FALL10 at checkout to received your discount.
This makes a perfect gift to present a new mom with a bouquet of rosebuds that needs lots of watering but will never wilt or die. The rosebud bouquet is carefully wrapped in scrapbook paper complete with ribbon and gift tag. The rosebud bouquet is made up of 6 washcloths folded in a beautiful dozen rosebud bouquet . You can never have too many of these. Due to availability, items may not be exact, but will be just as adorable.
I only use name brand items such as Gerber or Carter, etc.
Please feel free to contact me with any questions of special orders. Item will ship in 1-2 days. Please let me know if you need the gift sooner.
A lot of TLC and love goes into each gift.
Please specify at checkout if its for a GIRL, BOY or NEUTRAL colors.. This would also be perfect for a bridal shower.
I put alot of time and TLC into each item that I create for that special someone.
link to site here:
http://www.etsy.com/listing/74035331/10-off-washcloth-rosebud-bouquet-baby?ref=sr_gallery_21&ga_search_submit=&ga_search_query=castteam&ga_view_type=gallery&ga_ship_to=US&ga_search_type=handmade&ga_facet=handmade