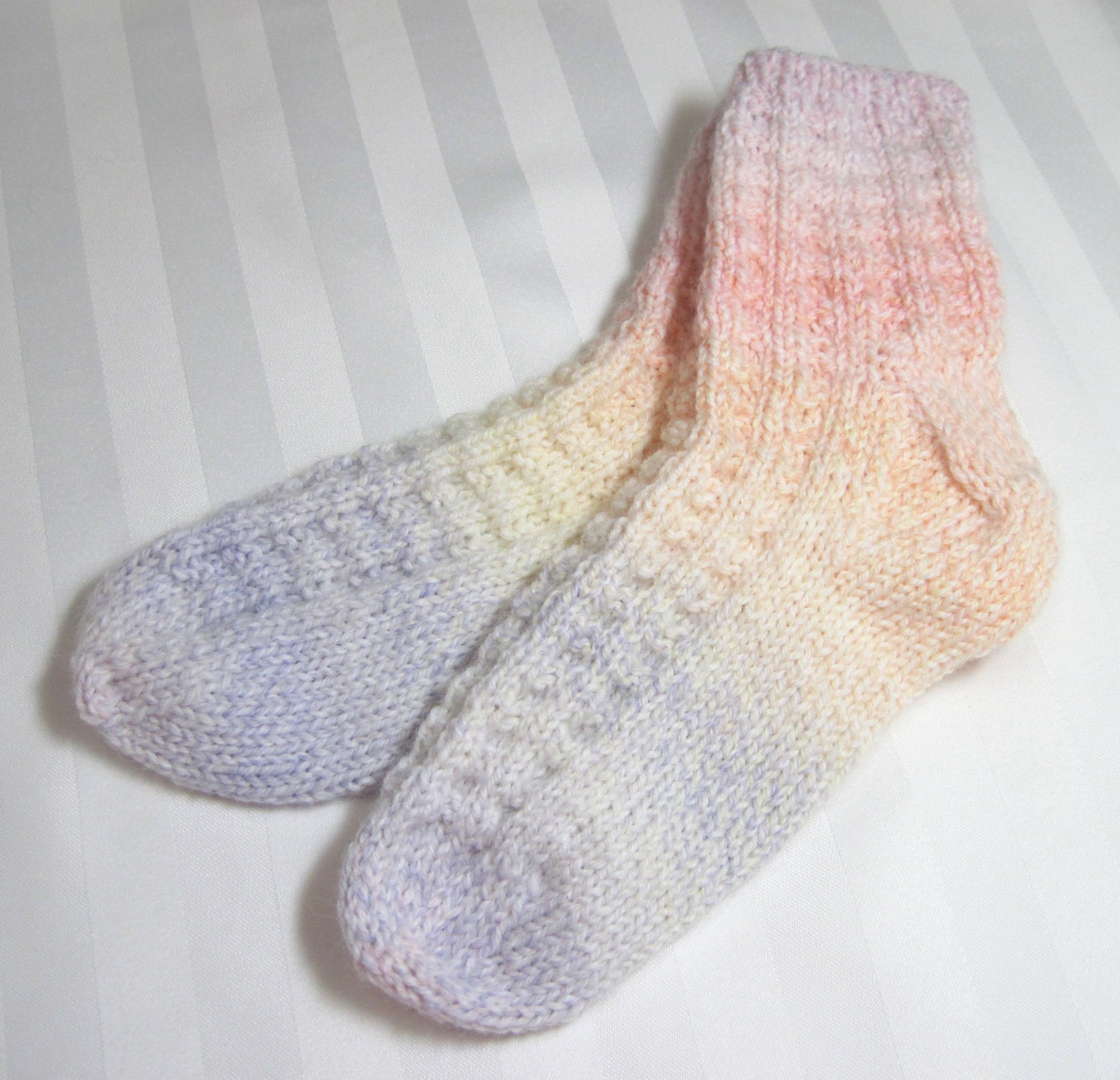 ****Click to visit shop
These thick soft Hand Knit Adult Socks are so comfortable, you'll hate to take them off. They are made with a machine washable Wool and Acrylic blend yarn in a fun mix I'm calling Pale Fruit Sherbet. They remind me of Sherbet Ice Cream, in shades of Pale Pink, Pale Coral, Pale Orange, Pale Yellow and Pale Blue, giving the illusion of Strawberry Sherbet, Orange Sherbet, Lemon Sherbet and Blueberry Sherbet. There is Whitish yarn along with each color, giving them each a Heathered look. NOTE: The shades are even more pale then my camera allows.

They would be great to wear relaxing in the evenings in your easy chair, or to keep your toes toasty when you are skiing or hiking or wearing your Birks. They are also great as bed-socks!

The top of my socks have an unusual edge, and then there is about 1/2 inch of ribbing. On the legs and down the top of the feet is a modified rib stitch, so they will stretch nicely without feeling too tight.

The design is fun and interesting, but not too frilly; understated yet classy. The bottom of the feet are done in the smooth stockinette knit stitch.

They are thick and comfy and good for men or women. They would also make a great gift for the elderly!

Machine Washable.

Women's size Medium (Shoe Size 8-10) or Men's size Small (Shoe Size 7-9).

If you want this sock in a Women's Size Small, just put a note in the Message to Seller and I can shorten the foot of each sock for you.