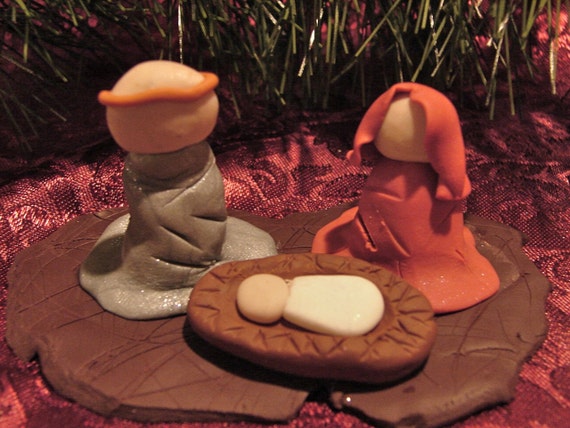 Click here to visit shop!
There's something extraordinary about this Polymer Clay Nativity scene. The scene of Joseph, Mary, and the Baby Jesus bring hope, sentiment, and special feelings and memories to many. But there's something unique about having a Nativity that is different and one-of-a-kind (OOAK). This is a brand new, handmade Polymer Clay Interpretive Art, Nativity Scene. This item is made with Premo Polymer Clays.
Approx. Size: 2" (d) by 3 1/2" (w) by 1 1/2" (h)
THIS ITEM IS 100% HANDMADE & CUSTOM CREATED BY ME. You will not find another ornament like this anywhere. This is an original one-of-a-kind (OOAK) item and will not be reproduced. As with all of our OOAK items, the artist's signature appears on the bottom.
`'-~;.__.;~-'``'-~;.__.;~-'``'-~;.__.;~-'``'-~;.__.;~-'``'-~
WHAT TO DO WITH OUR HANDMADE POLYMER CLAY CREATIONS: You can do almost anything with our creations. You can set them on shelves, use them as cake decorations, fill up a stocking, use them as conversation pieces, use it for a gift, hang them on a seasonal (or Christmas) tree, or add it to your personal handmade collection. The choice is yours, but the possibilities are endless!
***Item color may vary from picture due to camera/picture inconsistencies. Please see item description for exact color description.***