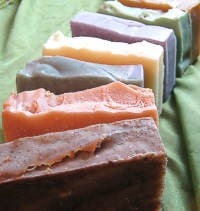 Click here to visit shop!
What you will like about my products is the high quality of each item combined with a simple earthy look. I want my products to be affordable for every day use, very functional and at the same time luxurious in the way they feel, made with natural ingredients and great for sensitive skins.
These shampoos are formulated to caress your hair with an enriching lather. They may be used anywhere on your skin.
Each of our bars is approximately 2.75" x 3.50" x 1.00" thick and an average of 4 ounces each. Long lasting and mild, for dry and sensitive skin and scalp.
These bars leave your hair feeling clean and conditioned. Scented with essential oils to bring you a natural hair-washing experience.
Each soap is labeled and shrink wrapped.
Rub directly on hair.
Olive, coconut, castor, palm and jojoba oils, and shea butter make up the base of these bars which can be used for hair and body.
Let me know if you would like to order more than one bar. I always have lots ready.
SHIPPING: I can mail 60 bars of soaps in a medium flat rate box, and mail it anywhere in the US for only $12.00. Let me know if you are interested in larger quantities than what I have listed.
Contact me also about international shipping.
You may also check out my website for different options and products: www.stoney-river.com
The shampoo bars are available in the following natural scents:
-Mint : Wakes you up and gives you a feeling of clear freshness. Clings for hours!
-Garden Wave : scented with essential oils of lavender, patchouli, eucalyptus and tea tree.
-Lavender Rosemary: Scented with the essential oils of lavender and rosemary.
-Cinnamon Orange: Scented with the essential oils of cinnamon leaf (similar to cloves) and orange. Colored with cinnamon powder.
-Lemongrass : with oils of lemongrass, eucalyptus, rosemary and tea tree. Made for humans, but may be used for your dog or cat. The essential oils in this bar mildly repel insects.
-Patchouli: with oils of patchouli, cedarwood and ylang ylang. Patchouli oil is the extract of a bushy herb. Used for centuries, it became popular during the 60s and 70s, and is now enjoying a huge comeback. Try a bar.