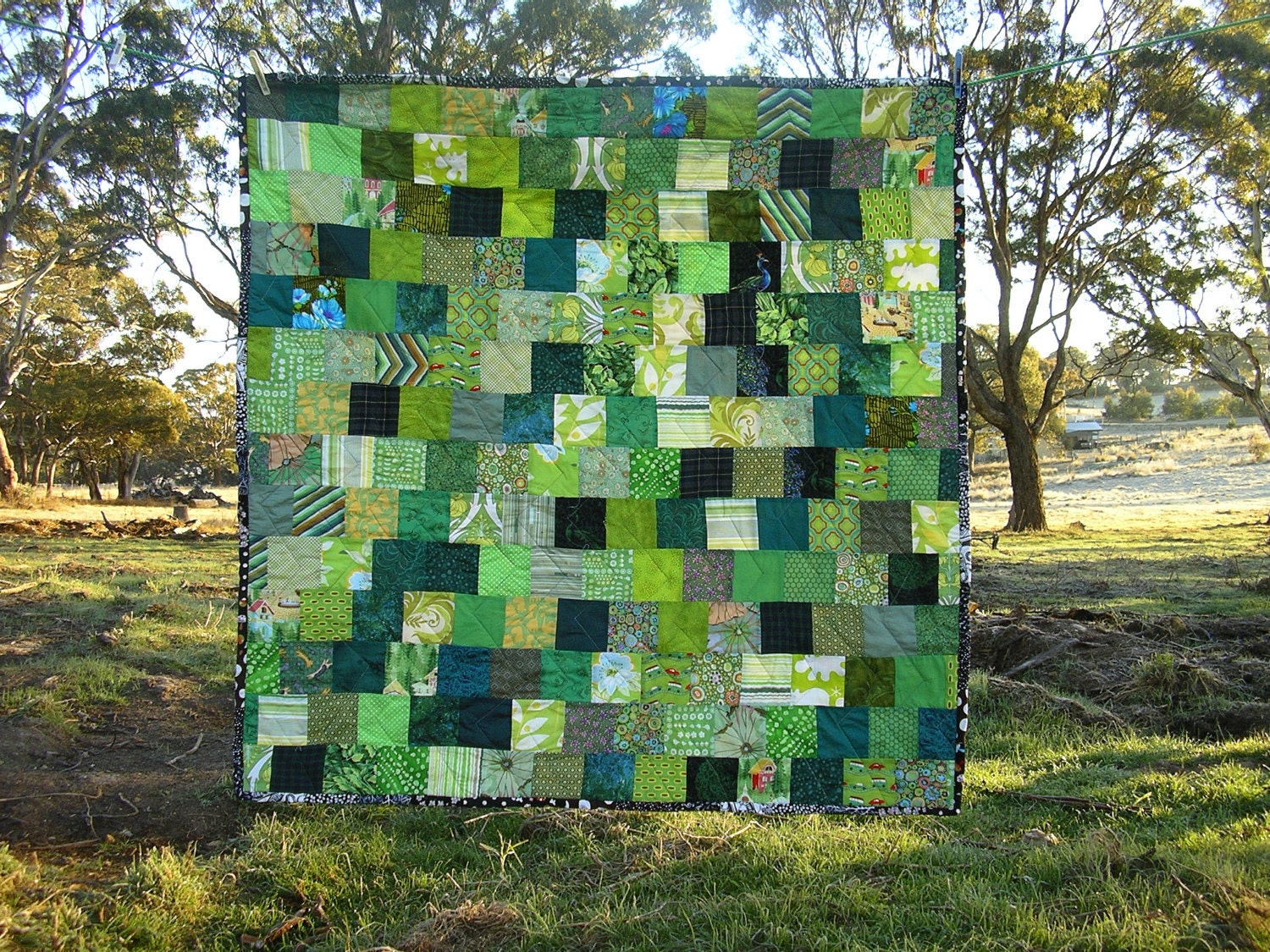 ****Click here to visit shop
This green quilt was inspired by nature (see below).
Dimensions: 120cm x 120cm (47x47inches)- perfect for draping over the couch or your knees on a winter's night. Also suitable for the end of a single bed or a child's playmat.
Fabrics: all green! Dark, light, mid, lime, olive, teal - all sorts. I have used a mixture of designer fabrics, such as Amy Butler, Kaffe Fassett, Heather Bailey and Moda, as well as
everyday quilting fabrics, vintage barkcloth and bed linen - whatever suited the green theme. It is all 100% cotton.
The batting is easy care polyester.
The binding is a recycled vintage cotton sheet from the thrift store - waste not, want not! It is white with pretty yellow flowers.
The binding is a double layer, pieced from black and white quilt fabrics, giving the quilt an added "zing". It is attached by machine for durability. The quilt can be machine washed.
Pattern: I used around 200 four inch squares, sewn into rows of 14. The rows are offset in a brick pattern.
Quilting: I machine quilted the quilt with my walking foot, and chose an asymetric zigzag pattern to meander through the squares. I used "signature" brand variagated thread.
It is a Bananaorangeapple original, and definitely a one of a kind.
My inspiration: Sawpit Creek, Kosciuszko National Park, NSW.
I named the quilt "Sawpit Creek" after this beautiful piece of bushland. Sawpit Creek is 1200 m above sea level, so roughly halfway to the top of Australia. The alpine regions of Australia are rare and very special. If you walk a little way into the trees at Sawpit Creek, you can close your eyes and hear the quiet gurgle of the creek. All you can see is green and brown, with a glimpse of pure white snow. Take a deep breath and inhale the crisp, cold mountain air with the smell of eucalyptus and earth. I chose zig zag quilting to reflect the days when the bush rang with the sound of axes and men took turns to push a saw from the bottom of the pit. The brick pattern of the blocks represents the path the visitors take as they stroll through the bush. I hope one day you can visit this lovely part of creation.