In the Manger 2 on Handmade Paper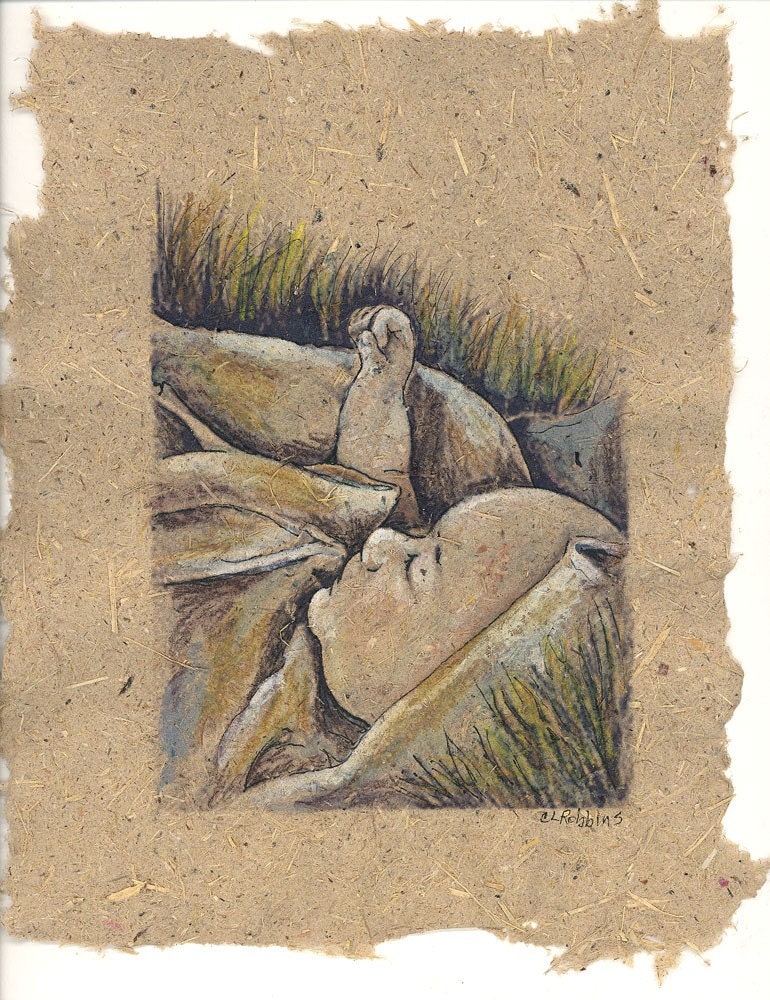 ****Click to visit shop
I made a new print of this image and went over it gently with Micron pen and watercolor.It is on paper that I made from recycled scrap paper and plant fobers. I used this image on my Christmas cards one year. Size 7.5" X 9"
Christian Bookmark - Religious - Lamb of God - Names of Jesus - Hand Stitched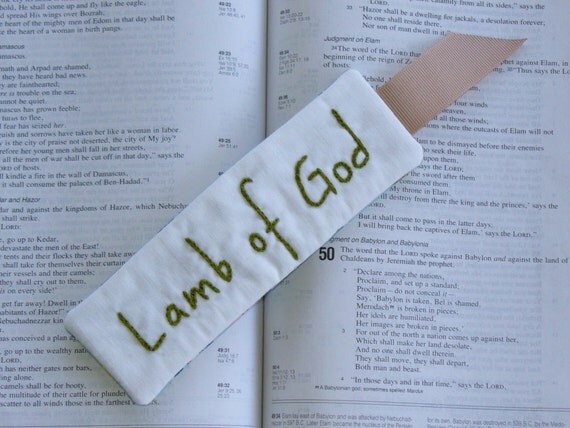 ****Click to visit shop
This bookmark was made to lift up one of the many names of Jesus. My desire is that it keeps you focused on HIM. Whether you use it in your bible or another book it will remind you of His sacrifice.
John 1:35, 36
35 Again, the next day, John stood with two of his disciples. 36 And looking at Jesus as He walked, he said, "Behold the Lamb of God!"
The olive green floss jumps off the white cotton fabric. The backing is a cheerful daisy like flower design. The batting is warm and natural and it has a tan grosgrain ribbon.
The bookmark is approximately 6" x 2" (15.2 cm x 5 cm) and the ribbon is 2 3/4" (7 cm.)
Comes from a smoke free home.
I will ship internationally. Please convo me your address so I may quote you a shipping price.
Christmas Photograph Card Jesus is the Gift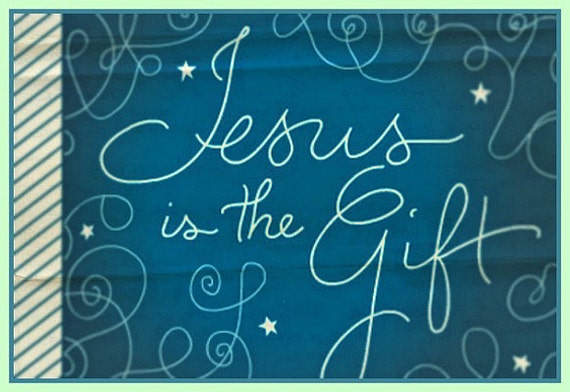 A beautiful Christmas card for the season.
This card is 4-1/2" X 5-1/2" with a matching envelope and comes in an acid free cellophane bag.
Toy Nativity Play Set: Plush Mary Joseph Jesus Doll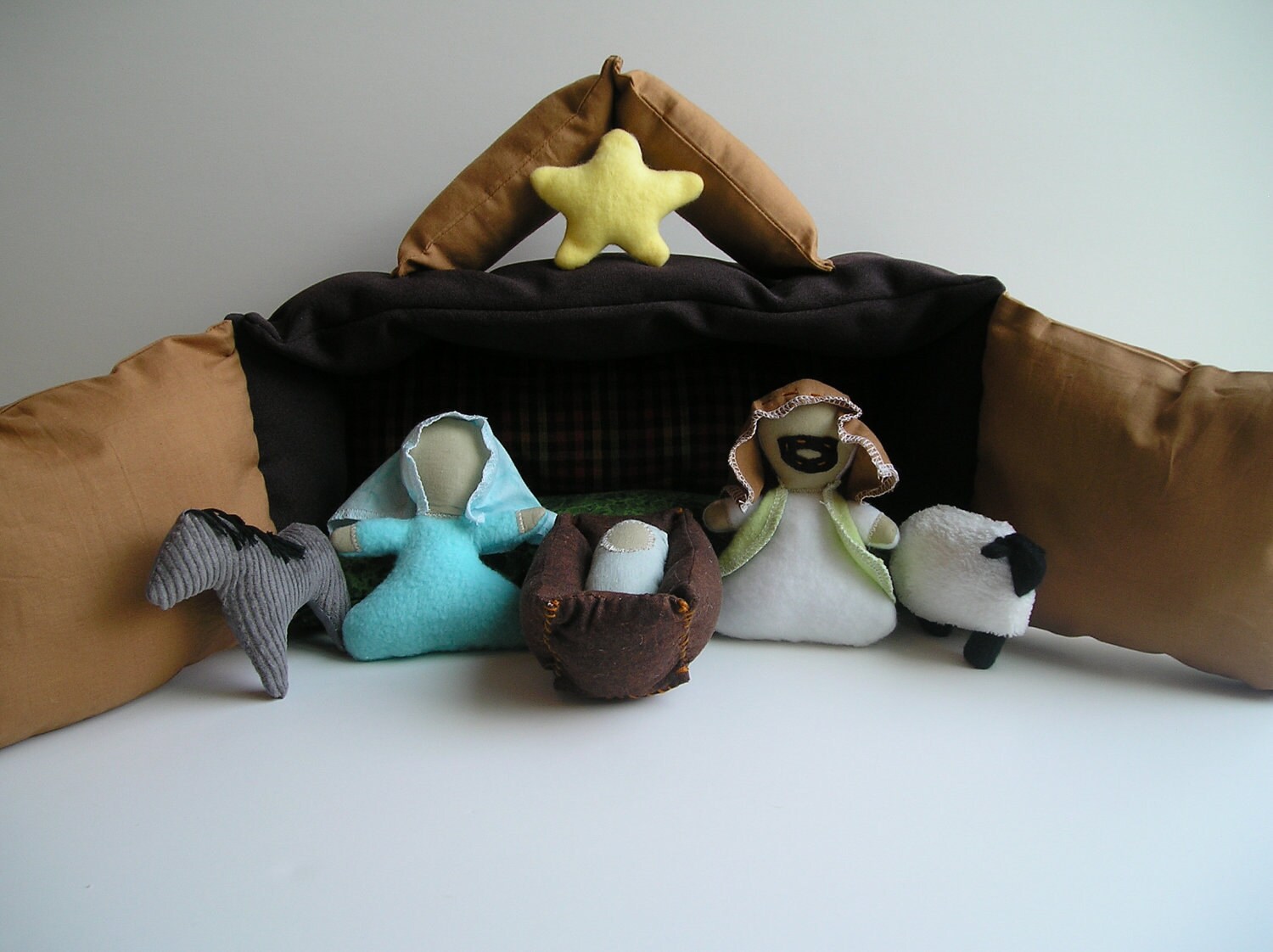 includes a stable, manger, star, sheep, donkey, Mary, Joseph, and baby Jesus doll. "Don't Touch...For display only"? --No way! This set is meant to be played with by little ones! A perfect Christmas gift for young children!
___________________________________________________________________________
The stable has two swinging doors which latch closed with velcro. The star has a small bell inside which softly jingles. The sheep is super soft and cuddly. The donkey's mane and tail are made from embroidery floss, while his body is corduroy and cotton. The baby Jesus doll has velcro on the back to attach him to either Mary or Joseph (to attach owner must firmly press velcro onto fleece).
Please note that the pieces do not stand on their own (except for the manger and stable); they must be propped up against the stable.
All the pieces fit into the stable while it is closed. However, it is not recommended to use the stable as a carrying case, because the sides may bulge, letting pieces fall out.
The pieces are made with cotton, polyester, and fleece. All pieces are filled with polyester stuffing and completely squish-able. Hand-washing in cold water recommended. Dry laying flat.
Jesus is the reason handmade tile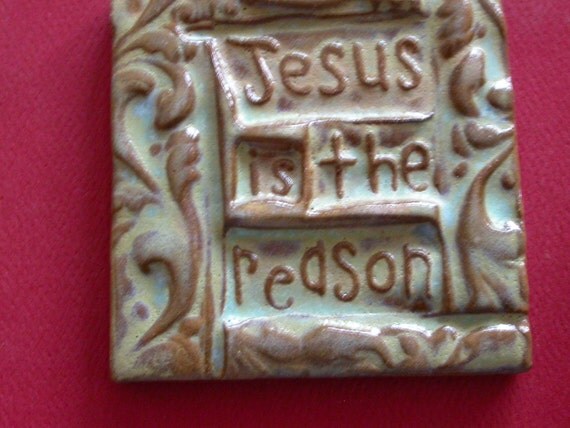 Handmade blue-green earthenware italian style clay tiles for installation in kitchen or bathroom backsplash, gift giving, weddings, parties or special events. Custom work available.
Say it with a SMILE and a handmade TILE!
Each of my handmade tiles are created individually
from red earthenware clay, stamped with hand carved stamps,
glazed and fired to 2000 degrees F.
No two are exactly alike.
The color, reminiscent of a trip to Italy in 2002,
has a hint of blue, green, yellow and pink,
with the words and/or patterns showing through in
the rich red color of the clay.
****** This tile measures 3" by 3" *********
TILESMILES handmade tiles work beautifully installed in a kitchen backsplash, a shower, a bathroom, as individual gifts for friends, or someone you just want to say a kind word to.