Color your world with hues from the rainbow!
Multi-colored Cross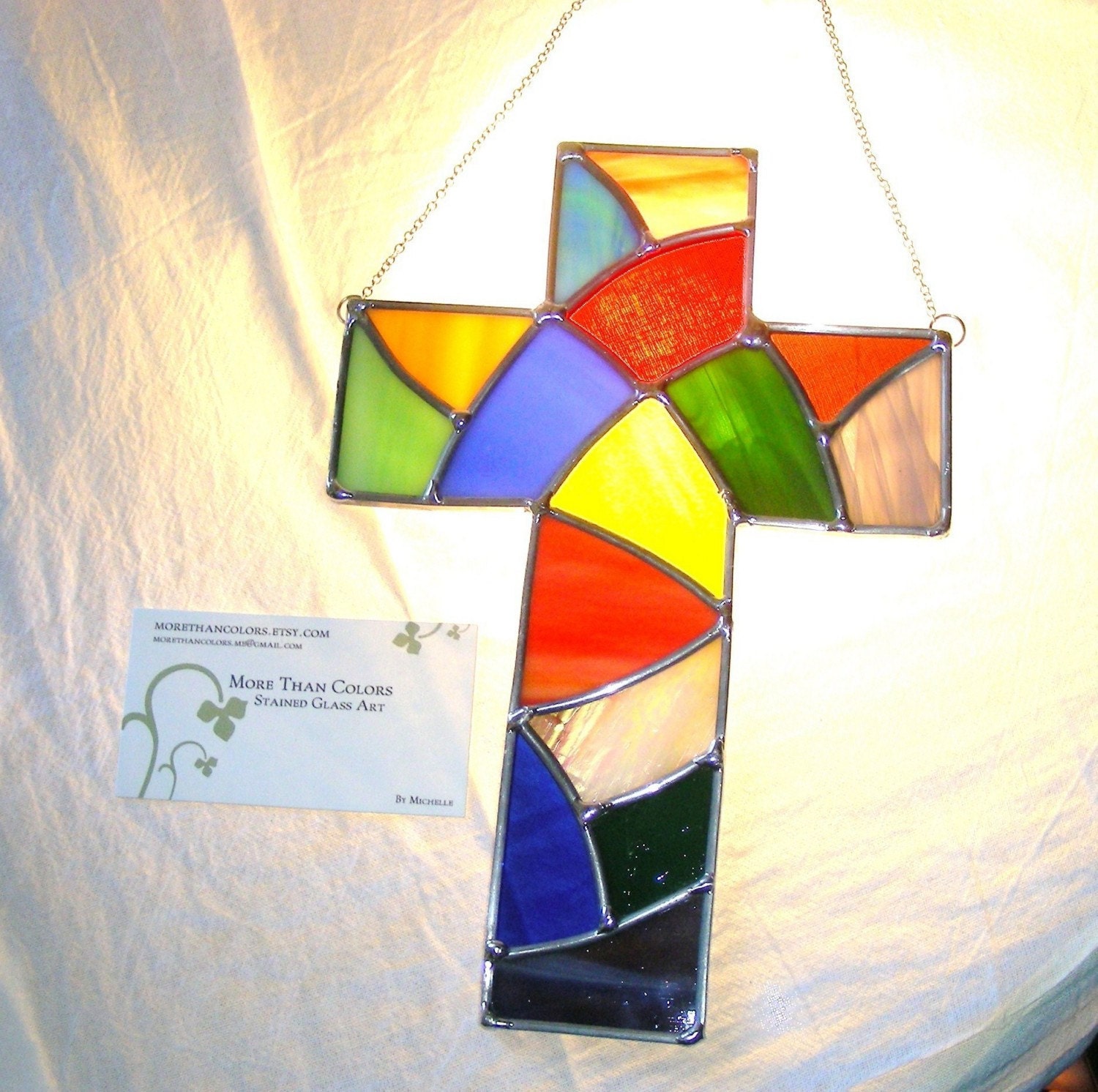 This Cross measures 9 1/2" x 6" x 2" (24.13cm x 15.24 x 5.08cm ). A collage of opaque and translucent colors make a beautiful arrangement into a cross.
The Traditional Lead Caming technique has been used to make this cross.
Small metal
rings are attached to which a silverplated 15 inch(38.1cm) chain is attached for hanging.
All items are polished and protected with a finishing compound before shipping.
Rainbow Earrings Bright Colorful Stars Dangling Red Orange Yellow Green Blue Pink Purple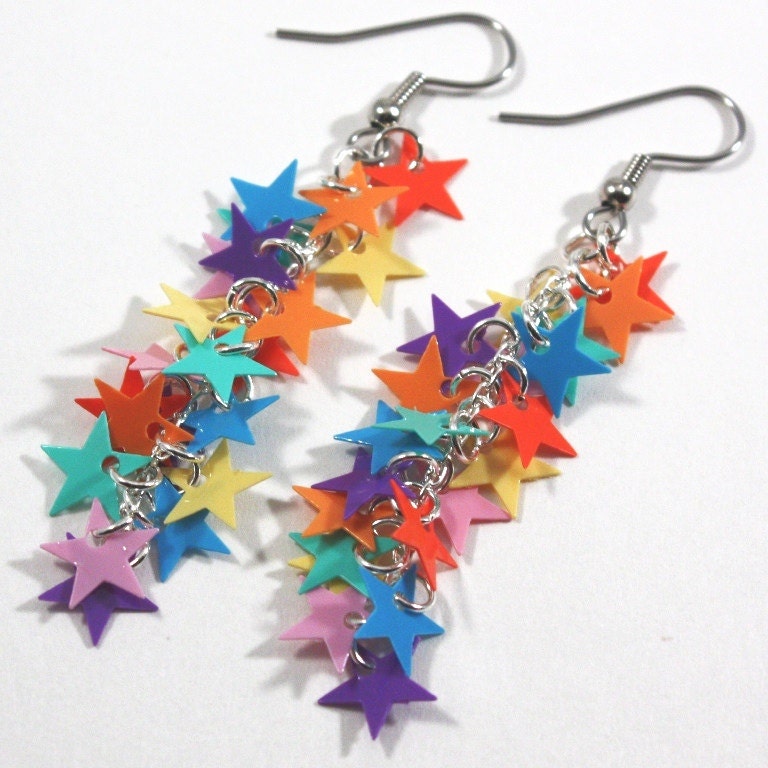 These Rainbow red orange yellow green blue pink purple star sequin confetti earrings are handmade with sterling silver chain &
surgical steel
earring hooks; all holes are punched by hand. These Rainbow Star Earrings are 2 3/4" long, there are twenty one 3/8" star sequins linked down a sterling silver chain. The color of stars are; red, orange, yellow, green, blue, pink, & purple. These set of star colors repeat in 3 times down the chain.
The surgical steel earring hooks are great for sensitive ears.
They can be scratched so wear and
store
with care.
The 4th photo is a PICTURE OF A LIFE SIZE MODEL to show the earrings to scale.
These earrings are my display model; all earrings are handmade at the time of purchase.
18.5" EMMA's ALPHABET SOUP Magnetic Good Health Necklace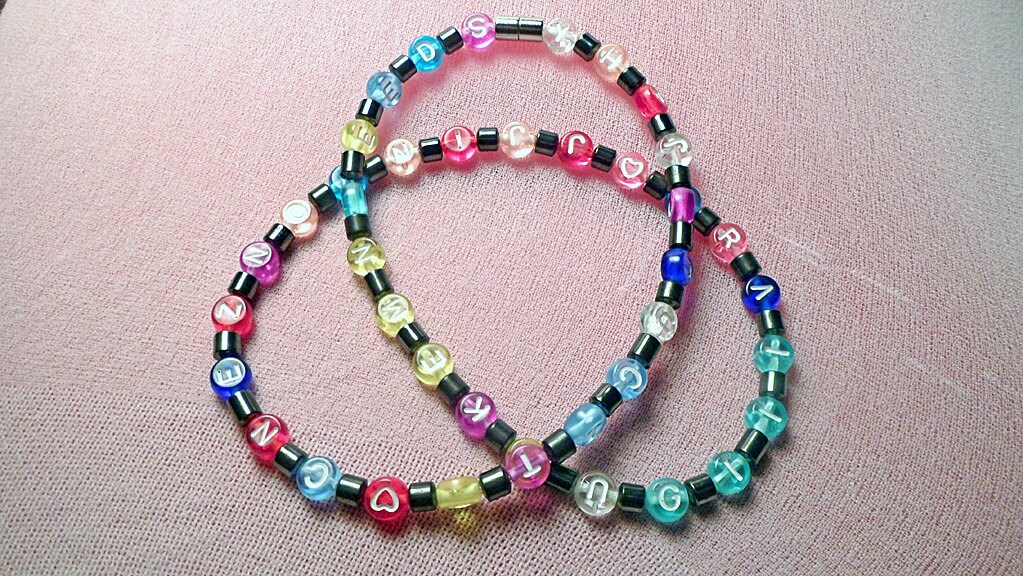 This fun necklace has a pleasing color palette of resin alphabet beads with high power magnetite throughout and is equipped with a Super Power Silver Plated Magnetic Clasp and we use heavy duty (80lb) copolymer beading line that is
water
and abrasion resistant to prevent breakage and to give you years of wearing pleasure.
Created by Emma, age 9
Necklace length is approx 18 1/2 inches (can be resized on request at no extra charge. will add one day to shipping time)
Our site is a home business set up for our special needs adopted kids. Those who may not be able to work regular jobs in the future get a great sense of purpose knowing they are helping out and making a little
money
doing a job THEY can do.
Scarf 'Rainbow Sherbet' OOAK Scarflette Neck/Ear Warmer Headband Head Wrap Hair-Tamer gold peach coral lavender turquoise lime yellow wool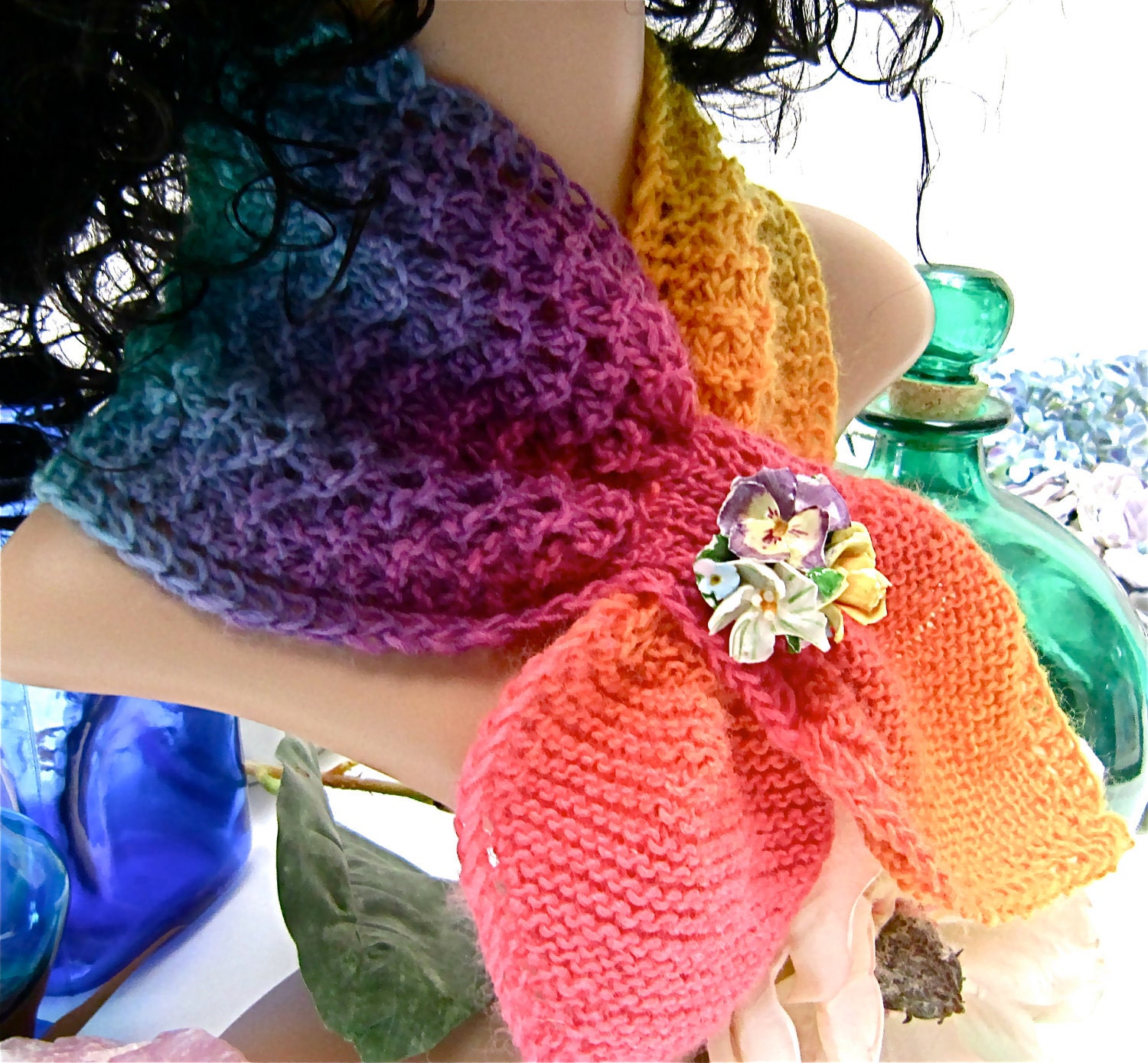 'Autumn Rainbow' lets you WEAR Autumn!!
'Autumn Rainbow' is from my 'HOT STUFF' knitwear collection.
'Autumn Rainbow' is a fun, classy or casual OOAK pieces hand
knit from a vibrant, eco-friendly organic wool blend yarn.
'Autumn Rainbow' is guaranteed to stay in place!
The scarf's clever construction that will keep your scarf tidy at all times.
Both ends of the scarf have a loop through which to pull the other end,
so no matter which way you put it on, you can choose
right
through left or left through right.
The shaping makes the ends stay where put.
My 'Autumn Rainbow' scarf, Scarfelette,headband and ear warmerr
comes wrapped in an organza bag with two tags.
One is my shop tag the second is a 'to-from' tag if you want to give this as a gift.
scallop tags - Rainbow variety of 50 - 2 3/4 inch for scrapbooking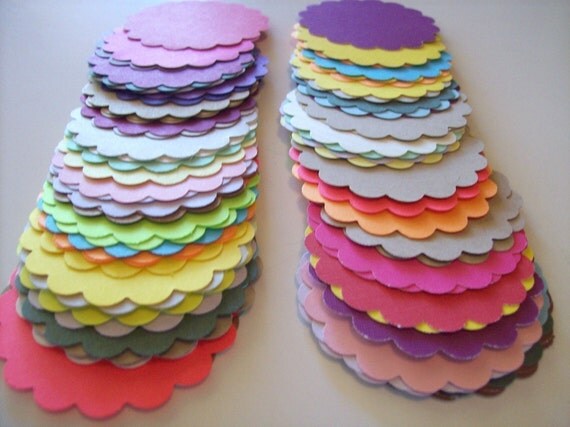 All sort of colors of the rainbow are included in this set of 50 cardstock scallop tags. They can be used for journal spots or tags.
Please specify on your order if you would like them punched for stringing. If nothing is specified, they will be shipped unpunched.
Tags measure a generous 2 3/4 inches across each.
Rainbow Felt Key Chain
I love rainbows with their roy g biv goodness. Of all weather phenomenon they are definately my favorite. They have the best
job
. Brightening the world after a storm.
Now you can take a rainbow to brighten your world everywhere you go! This rainbow key chain is made of eco friendly and vegan friendly felt. It is one hundred percent hand sewn without a machine, glue or any other nasty fillers. It's attached to the key ring with ribbon extra song.
It measures 11.5cm (4.5in)wide when you include the ring. Without the ring it is 8.5cm (3 1/4inches) and is 5cm (2inches)tall.
Rainbow Sapphire and 14kt Yellow Gold Flower Stud Earrings Handselected and Handset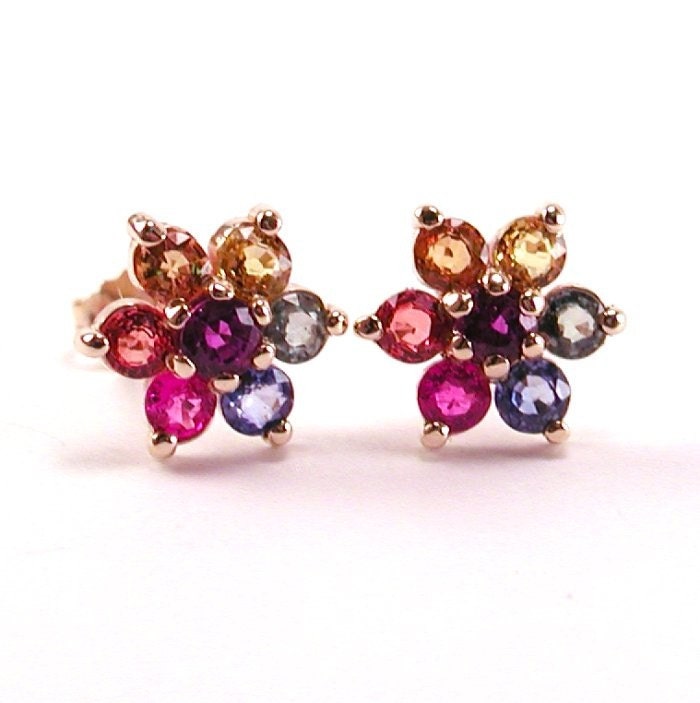 I really love this special pair of earrings. I have created them from a 14kt yellow gold flower setting then attached a post to create a stud earring. The sapphires have been selected by me from a large parcel of all colors and sizes to create this amazing rainbow of color. Each earring has 7 stones in it. The stones range from red to the vibrant yellow sapphires. All these stones are handset by myself in my studio then the earrings are polished to a high shine. Each stone is approximately 3mm in size. Total weight of the Colored Sapphires is approximately 2.25 carats. These earrings come with a 14kt yellow gold clutch backing for securing in your ear. These earrings measure nearly 1/2 inch in diameter, exact size is 10.2mm in diameter.
Handkerchief Rainbow
This listing is for the purchase of ONE ladies' handkerchief in the choice of any rainbow color. Red, orange, yellow, green, blue, lavendar, or purple. These 100% cotton handkerchief bodies measure approximately 11" x 11" with an added trim lace. Color shades may slightly vary and trim lace may vary, depending on what is available. Made to order so please allow 2 to 3 days to
complete
before shipping.
I can also make these into LAPSCARFS with wider lace. Body approximately 17-1/2" square with a 3" to 4" trim lace for $10.00 plus shipping. Convo me for fabric and lace availability.