Let me introduce myself. My name is Valentine. I lived in Rome during the third century. That was long, long ago! At that time, Rome was ruled by an emperor named Claudius. I didn't like Emperor Claudius, and I wasn't the only one! A lot of people shared my feelings.
Claudius wanted to have a big army. He expected men to volunteer to join. Many men just did not want to fight in wars. They did not want to leave their wives and families. As you might have guessed, not many men signed up. This made Claudius furious. So what happened? He had a crazy idea. He thought that if men were not married, they would not mind joining the army. So Claudius decided not to allow any more marriages. Young people thought his new law was cruel. I thought it was preposterous! I certainly wasn't going to support that law!
Did I mention that I was a priest? One of my favorite activities was to marry couples. Even after Emperor Claudius passed his law, I kept on performing marriage ceremonies -- secretly, of course. It was really quite exciting. Imagine a small candlelit room with only the bride and groom and myself. We would whisper the words of the ceremony, listening all the while for the steps of soldiers.
One night, we did hear footsteps. It was scary! Thank goodness the couple I was marrying escaped in time. I was caught. (Not quite as light on my feet as I used to be, I guess.) I was thrown in jail and told that my punishment was death.
I tried to stay cheerful. And do you know what? Wonderful things happened. Many young people came to the jail to visit me. They threw flowers and notes up to my window. They wanted me to know that they, too, believed in love.
One of these young people was the daughter of the prison guard. Her father allowed her to visit me in the cell. Sometimes we would sit and talk for hours. She helped me to keep my spirits up. She agreed that I did the right thing by ignoring the Emperor and going ahead with the secret marriages. On the day I was to die, I left my friend a little note thanking her for her friendship and loyalty. I signed it, "Love from your Valentine."
I believe that note started the custom of exchanging love messages on Valentine's Day. It was written on the day I died, February 14, 269 A.D. Now, every year on this day, people remember. But most importantly, they think about love and friendship. And when they think of Emperor Claudius, they remember how he tried to stand in the way of love, and they laugh -- because they know that love can't be beaten!
Enjoy the treasury below:
Set of Three Primitive Pink and Brown Distressed Valentine Decor Wooden Hearts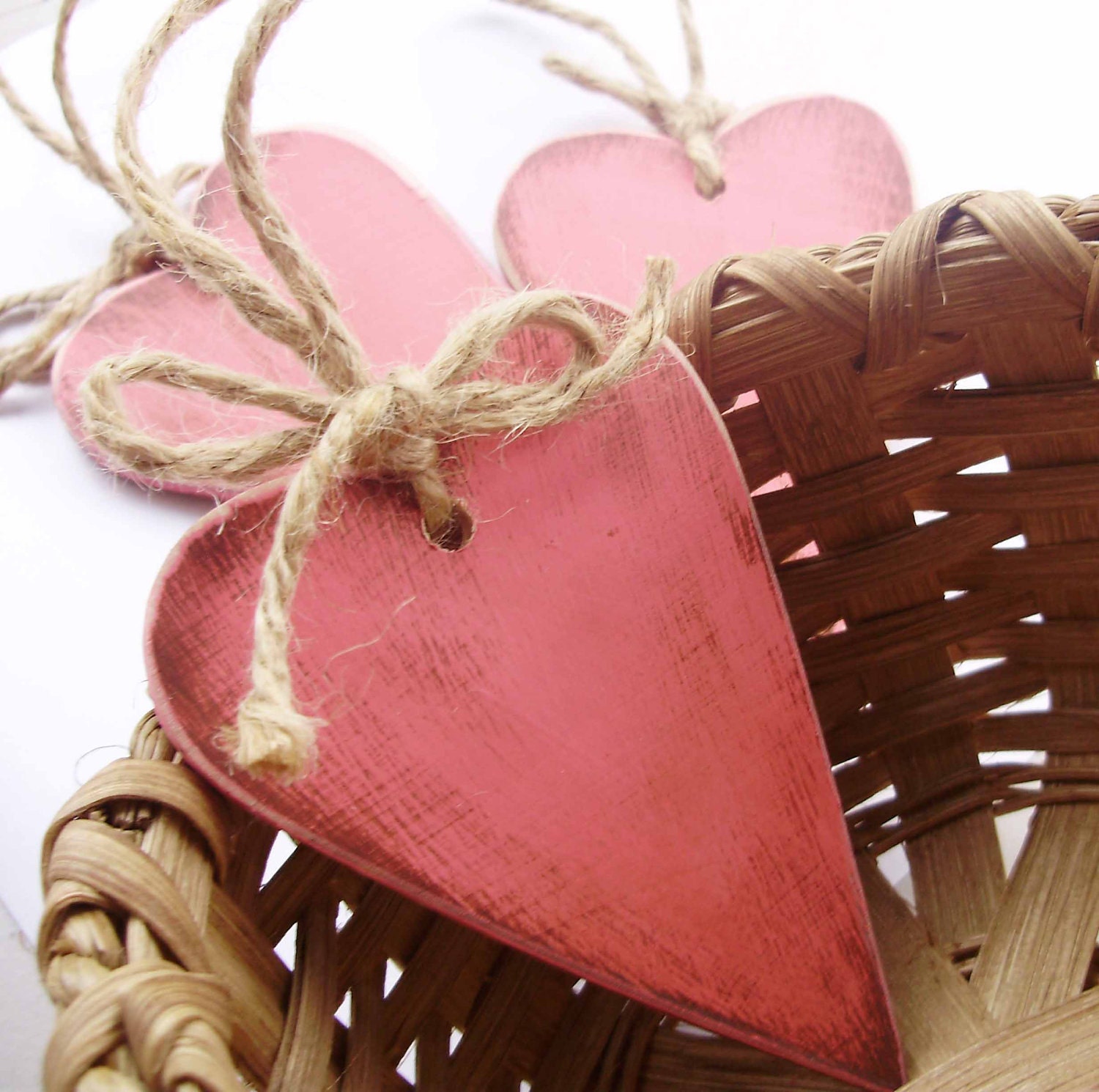 With this listing you get THREE cute primitive hearts!
Each one is cut from ¼" solid woodand painted in bubble gum pink, then rubbed with chocolate brown paint for a distressed, grungy look. The edges are lightly sanded to add some rustic country charm. A twine loop and bow are tied on so that they may hang anywhere in your home to add a little Valentine sweetness. Each one measures approximately 4" high.
These would look great hanging on a peg shelf, on a basket, or anywhere you have a spot that needs a little love! :)
Perfect for Valentines Day, but these can be left up year-round!
Valentines Day Capelet Vintage Crochet Shabby Rose Corsage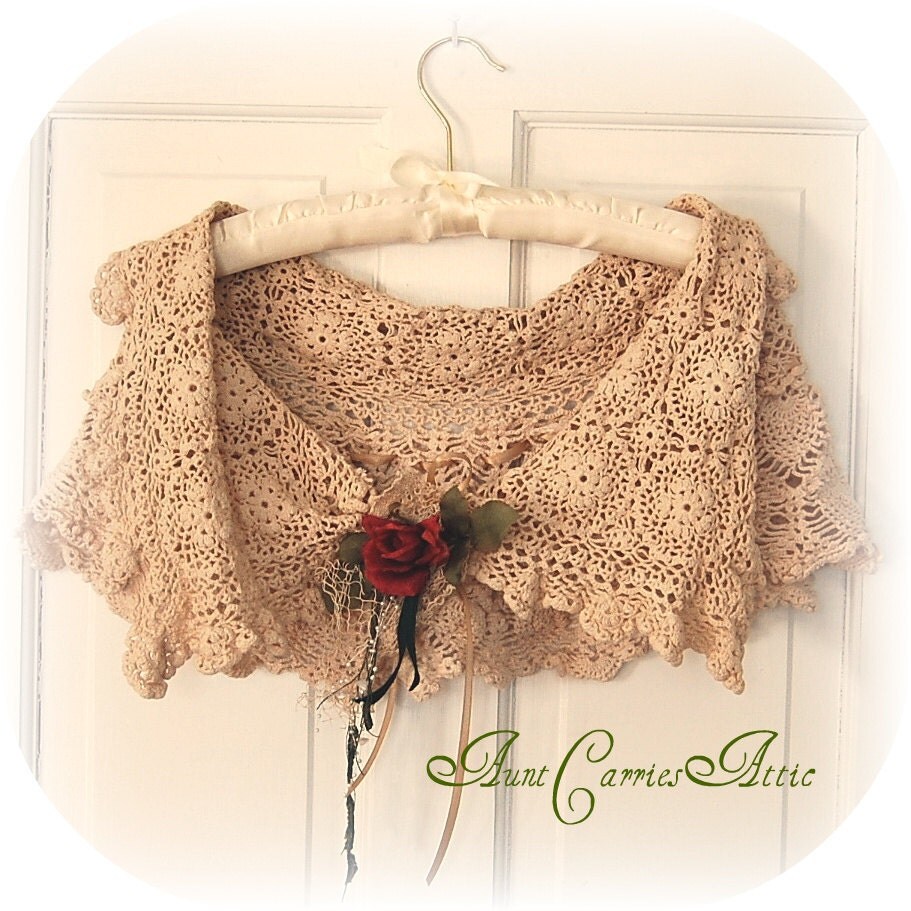 Add vintage charm to any outfit with this Shabby Tea Stained Capelet
Two medium weight crochet pieces are attached with ribbon. One piece is a rectangle; the other is curved. Together, they form a capelet that hugs your shoulders. It ties at the middle with ribbon and is accented by a shabby rose collage pin.
You can wear this little piece two ways - with the rectangle piece at the top or the curved piece on top. Either way, it drapes becomingly and forms a graceful collared cape.
The tea stain gives it an old fashioned look; the curved piece is lighter than the rectangle for added interest.
Size: One size fits all, small through large
Length: 41"
Width: 10" at back
10" round Valentines Day wool candle mat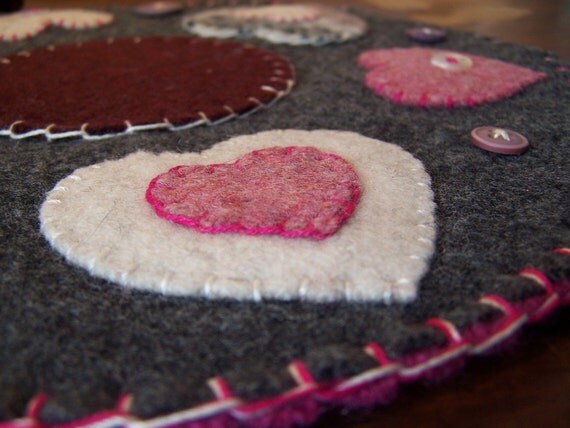 This is a 10 inch round wool felt candle mat just in time for Valentine's Day! The inner circle is a deep burgundy. The surrounding hearts are a nice mixture of purple, pink and white with some reclaimed buttons. The stitching is done in pink and white. The backing is a vibrant pink wool felt.
This item is completely hand-stitched and is made entirely from wool felt. All the wool felt that I use are used wool garments and blankets that I find and then felt down. If you would like this in a different color, just let me know and I will see what I can do! All items are made in a smoke free and pet free home.
Valentine Scripture Art Print 8x10 Bible Verse 1 John 4:7 Beloved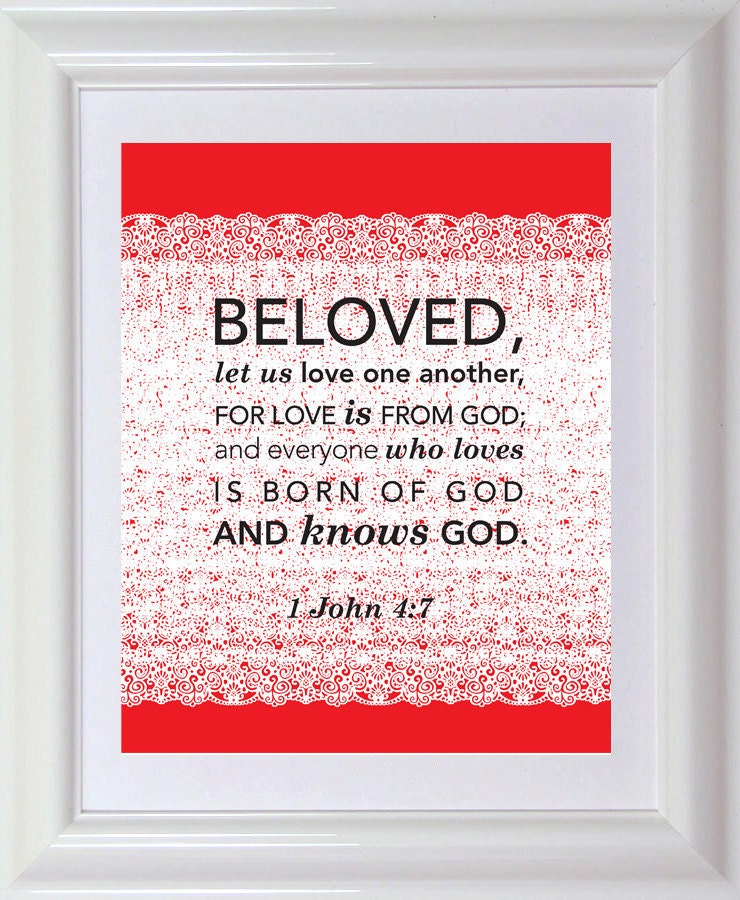 This listing is for an original one-of-a-kind art print featuring the scripture 1 John 4:7. Celebrate Valentine's day with the Lord! This is great inspiration for your day. Hang it up at the office or in your house. A Good way to keep the Lord's word visible and potent. Features this special beloved bible verse in a valentine style of red and white lace.
"Beloved, let us love one another, for love is from God; and everyone who loves is born of God and knows God 1 John 4:7"
Size 8x10, fits in a standard frame. Printed on high-quality paper with a matte finish. No frame or photo matte included.
Valentine's Day Dog Harness for small dogs size XS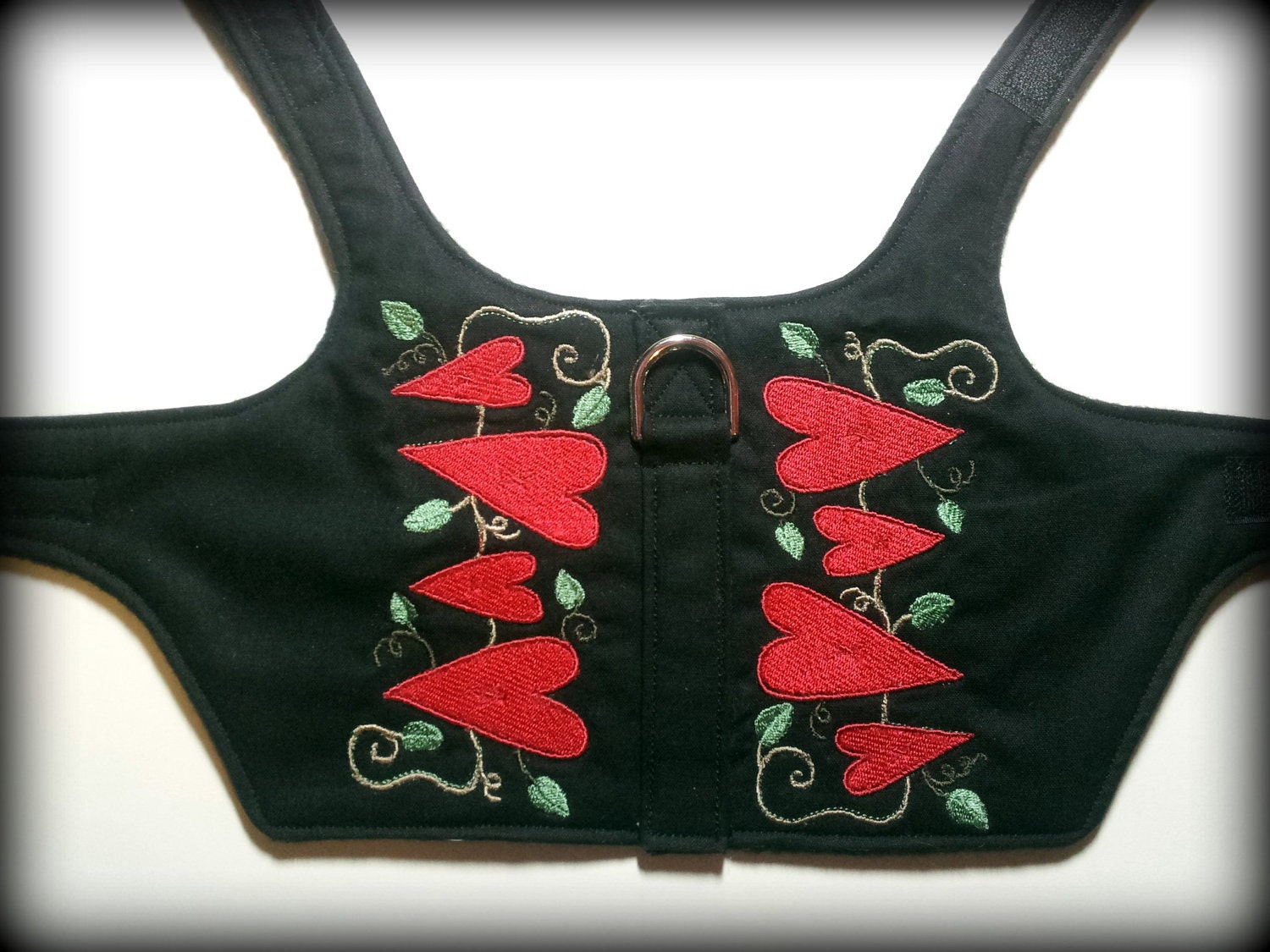 Fun Fun for your precious one. Ready for Valentine's Day dog harness is made in a smoke free environment with cute fabric and machine embroidery. This an adjustable harness perfect for boys and girls. The ends are held together via hook and loop so you can make the dog harness fit just right. It is made with 100% preshrunk cotton and can be handwashed or machine washed. This is made with 3 layers of fabric with the middle layer being flannel to add body and warmth to the harness.The back side of the dog harness is finished in black fleece.
Shipping is included in the price if you live in the U.S.
Shabby Chic Valentine's Day Cards Handmade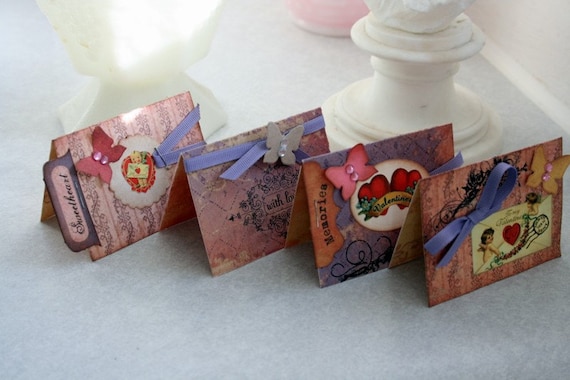 These sweet Valentine cards come complete with a two adorable children all dressed up in their Valentine finery. (Please note: You will not receive actual children, just vintage images of them.) I did lots of layering and of course added an abundance of glitter. Special touches include a loopy brad, three kinds of glitter, and gorgeous Cosmo Cricket paper. These cards are hand crafted, not printed out. There is real texture, depth and dimension here. It's a feast for the senses!
These little gems measure 2" x 3".