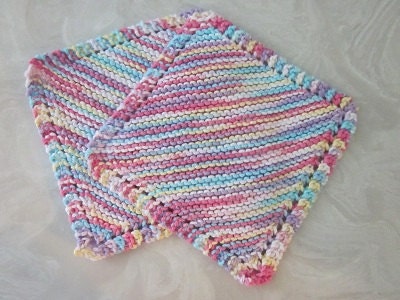 ****Click here to visit shop****
Set of two knitted dish cloths in the sweet colors of Saltwater Taffy: bubblegum pink, lavender purple, sunny yellow, aqua blue, and white. Hand knit of 100% soft cotton yarn, these sturdy dishcloths are useful in the kitchen or the bath. You will get several years of use from these pretty cloths, although the color will fade in time. Handy for wiping up spills, clean counter tops, and washing dishes. Each cloth measures 7" square. Machine wash and dry. A simple way to reuse and reduce.
Eco friendly and reusable - just like grandma used to make, but in fun colors.