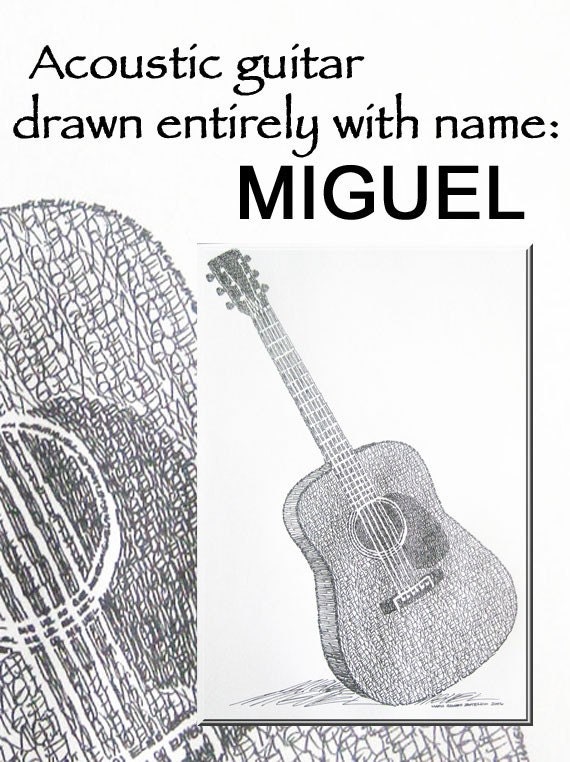 ****CLICK TO VISIT SHOP****
This listing is for an 11x14 custom order Personalized Sketches pen & ink of one image.
Image will be drawn using their name. Perfect gift for any musician.
These can be drawn with the name that YOU choose. or you can send any image to me. This listing includes the cost (+$5) for the additional calligraphy, such as a verse or quote or background(as shown with the flute, there is the customer's favorite sheet music).
(Artwork shown are only samples of previous orders-and may be lighter and not as clear as the original. Click on the magnifying glass on bottom right corner to view a larger image. Any sentiment, quote, verse, words can be added, written in calligraphy.
Custom portrait is drawn with a fade-proof ink on 70lb acid-free art paper.
The 11x14 size will fit in any standard size 16x20 size mat and frame (not included). The versatility of pen & ink is that it looks great in any color mat and any style frame.
Just let me know what name to use or if you do have another image:
1. Send me your photo to mgbotelho21 [at] gmail.com (jpeg images work best)
2. Image drawn is what I see in the photo (be sure that your photo is clear and image is not dark.
3. Leave the rest to me... (I will be sure to contact you with any specific questions during the process).
I begin the drawing upon payment and verification of the names to be used.
Notification will be sent to you by email when your drawing is ready for pickup.
Please allow approximately 5-7 business days for your order to be shipped from the date of purchase & verification of personalized information for your drawing. This is also dependent upon the number of drawing orders, since I do them in the order that they are received.
*With local pickup, no shipping charges.*
Please convo / email me with any questions you might have. I look forward to working with you and creating a unique keepsake.
All artwork is the © 2009 copyright of Maria Sambs Botelho. Artist holds all rights to the original artwork and retains the right to reproduce or copy the artwork in any form. You may not reproduce the image without permission