****CLICK TO VISIT SHOP****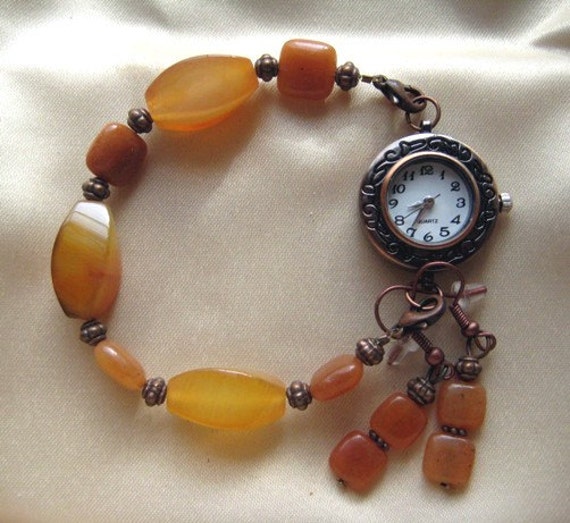 Interchangeable Red Aventurine Watch Band Bracelet with Copper Watch Face and Earrings

Comes with watch face!

This watch comes with brass rings attached to be worn with interchangeable watch bracelets. This watch band is 5 3/4", which is a size small. However, I can make any size that is comfortable for you.

This listing is for sizes small, or medium (band) please indicate which size needed in notes to seller. If large or extra large band is needed let me know and we can post a new listing. These bands will be $2.00 more

Measure your wrist with string or dental floss, then find out how long it is and let me know.
The usual length of a watch face is 1 3/4" to 2 1/4"

Sizes are as follows:
Small: 5" - 5 3/4" without the watch face
Medium: 6" -6 1/4"
Large: 6 1/2" - 6 3/4"
X Large: 7 - 7 1/4"

All of my watches are quartz clocks. A quartz clock is a clock that uses an electronic oscillator that is regulated by a quartz crystal to keep time. This crystal oscillator creates a signal with very precise frequency, so that quartz clocks are at least an order of magnitude more accurate than good mechanical clocks. Generally, some form of digital logic counts the cycles of this signal and provides a numeric time display, usually in units of hours, minutes, and seconds. Since the 1970s, they have become the most widely used timekeeping technology.

Check out all of my watches in my shop!